Mind-related diseases are emerging as major public health issues, and the manifestation of the illness is multifocal, including somatic symptoms. Yoga can bring harmony in mind-body functioning. Yoga can empower individuals positively to take charge of their psychological wellness and save a significant expenditure for treating and preventing mental health problems. In coping times, Yoga enables us to achieve a mindset where we can take a step back to understand our issues better with a healthy, calm and open mind and consequently handle them more efficiently. This way of managing life adds to our physical health as well.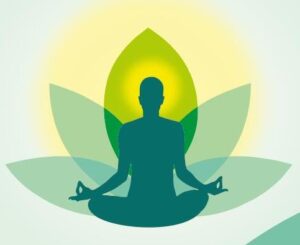 Yoga Research on Mental Health
Yoga and its numerous benefits can be derived through a healthy diet, Pranayama and yoga asanas. Through its prolific benefits and approaches, Yoga enhances the functioning of the overall body and mind and imparts us with a healthy and positive outlook towards life. Multitudinous scientific studies and research over recent years have supported these claims.
In 2010, Harner, Hanlon, and Garfinkel conducted a research study on prison women to evaluate the efficacy of Yoga.  A group format of the Iyengar Yoga Programme for two sessions a week for 12 weeks was used for intervention. Data on baseline, 4th week, and 12th week were collected. The findings of this study have shown a significant improvement in depression symptoms, anxiety symptoms, and perceived stress among prison women.
Gururaja et al. conducted a study in 2011 to evaluate and compare the effect of Yoga on the mental health status of younger and older people in Japan. Individuals selected for this study were given a 90-minute yoga session for one month twice a week. State-Trait Anxiety Inventory (STAI) was administered on the baseline and after one month to assess state and trait anxiety. Research findings show that the salivary amylase activity decreased in both senior and younger groups and the state anxiety score; changes were statistically significant with P<0.05. The study shows that Yoga helps to improve mental health in both old and young age groups.
Fan and Chen (2011) conducted a research study to evaluate the effect of Yoga on the mental health of older adults with dementia. The group that underwent Yoga therapy showed better health indicators than the non-Yoga group. The depression rate and behavioural problems also reduced significantly. Other benefits were reduced blood pressure, improved respiration rate, increased cardiopulmonary fitness, improved body flexibility, balance, muscle strength, endurance, and increased joint motion.
Telles, Singh, and Balkrishna (2012) did a review-based study to assess the use of Yoga in managing mental conditions such as trauma-related depression, anxiety, PTSD, and physiological stress due to natural calamities, violence, and war. Evidence-based research shows that Yoga and other mind-body interventions effectively reduce mental health disorders.
A research review conducted by Büssing et al. has summarised the current evidence of Yoga intervention on various physical and mental health components. Meta-analyses on several randomised clinical trials (RCTs) have shown relatively high beneficial effects of Yoga for pain-associated disability and mental health. They state while Yoga may be effective as a supportive adjunct to other treatment modalities, there is a need for more research studies with larger samples.
Khalsa et al. conducted a research study to evaluate the efficacy of yoga for mental health benefits on adolescents in secondary school. The completed baseline includes mood, anxiety, stress, resilience, and other mental health variables. Independent evaluation of outcome measures shows that yoga participants have statistically significant differences in controls on anger and fatigue/inertia standards. These results indicate that implementation of Yoga is beneficial at a school level, and Yoga has a potential role in preventing and maintaining mental health.
Clark et al. conducted a research study to evaluate the efficacy of Yoga for female victims of partner violence with symptoms of anxiety, depression, and post-traumatic stress disorder (PTSD). 12-week trauma-sensitive Yoga intervention with psychotherapy was given once a week for 30–40 min. The control group underwent only psychotherapy. Significant changes were seen in the Yoga group, especially in primary outcomes such as anxiety, depression, and PTSD symptoms.
Lin et al. (2015) conducted a randomised control trial to examine the effect of yoga on work-related stress and autonomic nerve activity in mental health professionals. Yoga was used as an intervention for 12 weeks. It has been found that heart rate variability was measured at baseline and post-intervention after the yoga session. Results show that there is a significant stress reduction.
Sathyanarayanan et al. conducted a research review to see the role of yoga and mindfulness in severe mental illnesses. They found that yoga and mindfulness interventions are helpful as adjuncts in treating extreme mental conditions. Studies have shown improvements in psychopathology, anxiety, cognition, and functioning of patients with schizophrenia.